Elbow Braces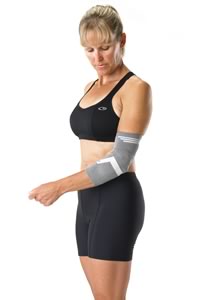 Elbows are common sites for tendonitis, bursitis, and other painful conditions. Many sports are associated with elbow pain (tennis elbow, golfer's elbow), but just about anyone is at risk. Elbow support is especially important if you've already experienced elbow pain or injury, or if you've had elbow surgery.
Common types of elbow support are:
elbow wraps
elbow straps
elbow sleeves
elbow splints
elbow slings
elbow immobilizers
Bandage-style wraps, Velcro or elastic elbow straps (also called elbow bands), and elbow compression sleeves are all flexible elbow supports. These braces stabilize the joint but still allow a full range of movement.
Semi-rigid and rigid elbow braces like splints, slings, and immobilizers prevent some or all elbow movement. Many of these braces also provide forearm support.
The most common reasons to use elbow braces are:
Main Street Health has a wide range of elbow supports, and our knowledgeable staff will gladly help you find the right one. They can also help you with any paperwork related to your insurance coverage. Contact us to book an appointment.
Benefits of Elbow Support
All types of elbow support offer the following advantages:
elbow pain relief
joint support, added stability
reduced risk of injury or re-injury
Specific elbow braces may have additional benefits for certain conditions. To find the best brace for you, book an appointment at Main Street Health.