Shoulder Braces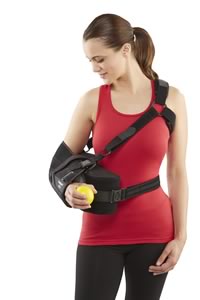 Shoulder problems can cause great pain and severely limit mobility. Often, shoulder pain or injury also affects the back, neck, and arms. Using a shoulder brace to prevent or correct shoulder problems helps you maintain sports or daily activities.
Common types of shoulder support include:
shoulder wraps
shoulder straps
shoulder sleeves
shoulder immobilizers
shoulder slings / arm slings
clavicle braces / posture correctors
Main Street Health offers a wide range of shoulder support for injury prevention, rehabilitation, and post-surgical support.
The most common reasons for shoulder bracing are:
posture support / correction
sports injury or work injury prevention
post-operative or post-injury shoulder immobilization
joint and arm support during sport, exercise, or physiotherapy
Today's shoulder and arm supports are made from light, comfortable materials and come in a variety of colours and styles. They may even be covered by your extended health or other insurance plans.
The staff at Main Street Health will show you the options and help you choose the best brace for your personal needs when you book an appointment.
Benefits of Shoulder Support
Like any joint, shoulders are at risk for pain and injury at work, during sports or exercise, and even from daily activities. Shoulder supports help reduce this risk so that you can continue to perform at your optimal level.
The main advantages of shoulder-arm support are:
reduced risk of shoulder dislocation or injury
less pain and swelling after injury or surgery
faster healing after injury or surgery, less risk of re-injury
increased shoulder stability, better back and arm support
To learn more about the many shoulder support options and find the one that's right for you, book an appointment at Main Street Health.