Occupational Therapy / Work Conditioning Programs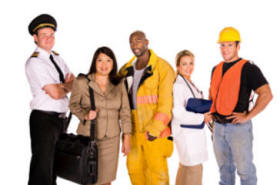 Returning to work too soon after an injury increases the risk of re-injury. Occupational therapy or work rehabilitation focuses on your specific injury and job requirements to ensure a safe and sustainable return to work.
Main Street Health offers several occupational therapy services. Our practitioners work together with a single goal: your return to optimal health and function.
What is occupational therapy?
Occupational therapy is a rehabilitation program designed to help you return to your usual activities. These activities can be paid or unpaid work, daily chores like dressing or doing the dishes, or sports and other pastimes.
When occupational therapy focuses on a return to work, it is also called work hardening or work conditioning.
What is work hardening or work conditioning?
Work hardening or work conditioning programs are structured, goal-oriented treatments specifically focused on a return-to-work plan. They are highly individualized and often include several different therapies.
A work hardening program focuses on safety, productivity, and functional abilities . Work conditioning focuses on broader physical aspects like cardiovascular strength, range of motion, and endurance, but with job-specific tasks in mind.
What is an occupational therapist?
Occupational therapists trained and licensed professionals. Their job is to help you recover or adjust when an injury or condition limits functioning.
The team at Main Street Health works with occupational therapists to improve functioning with a variety of treatments.
What conditions can work hardening therapy help?
Because work hardening programs are highly individualized and focused on outcomes, they can be used to treat just about any condition.
Some of the more common reasons for work hardening therapy are:
What are the benefits of work hardening programs?
Work hardening therapy is highly individualized and goal-oriented. It is designed around your specific injury or condition and your specific job requirements.
Work hardening / work conditioning programs have three main aspects, each with benefits:
1) job simulation activities to prepare you for specific on-the-job tasks
2) fitness exercises to improve overall conditioning and endurance
3) education to help you understand your injury, identify risk factors, and avoid re-injury
The team at Main Street Health will identify the specific goals and benefits of your work hardening program at your initial assessment. They will then work closely with you, your employer, and any insurance providers to ensure that everyone agrees on the timing and conditions of your return to work.
Is occupational therapy covered by insurance?
Main Street Health's work hardening programs include several possible occupational therapy services. Any or all of these may be covered by insurance depending on your extended healthcare benefits.
Other Common Questions
What's involved in a work hardening program?
Work hardening programs are highly individualized. What's involved will depend on your injury and the type of work you do. Possible therapies include:
physiotherapy exercises
functional abilities assessments
fitness and conditioning exercises
muscle stretching and strengthening
How long does work conditioning take?
Work conditioning is a gradual process. The actual duration of your work conditioning program will depend on several factors:
type of injury
extent of injury
type of work you do
difference between current and previous levels of functioning
Of course, attitude also makes a difference. Think positive and follow your program as instructed for best results.