Wrist Braces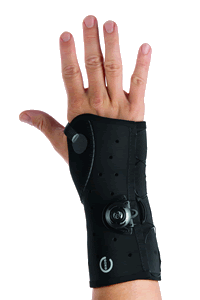 We don't often think about it, but the wrist plays an important part in many of our day-to-day activities, as well as most sports. Like any other joint, the wrist is at risk for stress and injury. Proper wrist brace can help protect the wrist and minimize wrist, hand, and even arm pain.
Main Street Health offers a wide array of functional, fashionable hand and wrist supports. Our selection includes flexible, adjustable wrist support options as well as rigid immobilizers.
Among our selection of top-quality wrist guards are:
wrist straps
wrist wraps
wrist-hand splints
wrist and thumb splints
wrist and forearm braces
Our friendly, professional staff will help you find just the right wrist brace for your needs. We can also help you find out if you're wrist brace is covered and can even help file insurance claims.
Common reasons for wrist bracing include:
sports injuries
work-related stress
carpal tunnel syndrome
chronic pain in wrist, hand, or forearm
osteoarthritis , tendonitis, or other inflammation and pain
post-operative immobilization and support to speed healing
Benefits of Hand and Wrist Support
As with other joint support, the main advantage of wrist bracing is safer, more comfortable movement.
Hand and wrist braces help to:
stabilize the wrist
support proper movement
reduce the risk of injury or re-injury
alleviate symptoms of repetitive stress
ease pain and swelling, and promote healing
Acute or chronic wrist pain can be debilitating. Don't let it keep you from work, sport, or daily living. Book an appointment with Main Street Health to find your perfect wrist support.