BioFreeze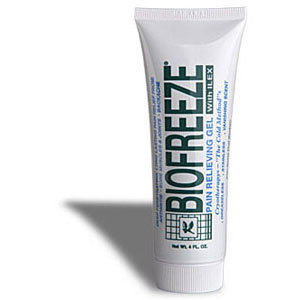 Biofreeze products provide temporary pain relief from sore muscles and joints. They can be used before rehabilitation exercises or therapies to block pain during treatment. You can also use them after exercise or therapy to soothe the areas worked.
Popular Biofreeze products include:
Biofreeze gel
Biofreeze spray
Biofreeze roll-on
Bio-freeze packets (singles)


You can use these products to provide relief from:
knee pain
back pain
arthritis pain
neck and shoulder pain
tired, aching muscles and joints
sports injuries (strains and sprains)
Benefits of Biofreeze
Biofreeze is a topical pain reliever. You an apply it up to four times a day for long-lasting muscle and joint pain relief.
Few people report experiencing Biofreeze side effects, but you should always consult your therapist before starting cold therapy.
As a topical pain reliever, Biofreeze is:
easy to use
safe for most people
available without a prescription
effective for most muscle or joint pain
Biofreeze products are only available through authorized dealers like Main Street Health. Visit or contact us to purchase Biofreeze.