Workplace Injuries (WSIB)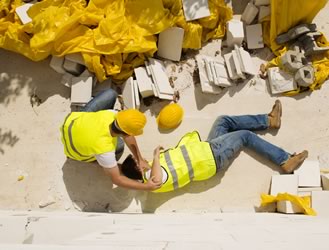 No job is 100% safe. Some jobs are more dangerous than others, but every job has some risk of injury. Even office workers are at risk for injuries like carpal tunnel syndrome.
Main Street Health offers comprehensive rehabilitation services for a safe, sustainable return to work after a work-related injury.
What should you do if you get injured at work?
If you experience a work-related injury, no matter how minor, you should immediately:
1) Report the incident to your employer and the Workplace Safety and Insurance Board (WSIB)
2) Contact Main Street Health for a complete workplace injury assessment
Prompt reporting and assessment will protect your health and your legal rights.
Not all injuries can be seen or felt immediately. Whiplash or concussion may not show symptoms for hours or even days. Soft tissue injuries don't show up on x-rays and may not always be accompanied by cuts or bruises. Even if you don't feel hurt, get a professional assessment after any workplace accident.
We help with your workers' compensation (WSIB) claim
Main Street Health is a full-service clinic . We offer multiple therapies in one location to make your rehabilitation more convenient. Plus, our staff will gladly help with the paperwork related to your workers' compensation benefits. We can even provide you the names of work injury lawyers if you need them.
As a Qualified Partner with several leading insurance companies, we can offer direct billing. This means that, depending on your plan, you could pay nothing upfront. We can submit claims directly to your insurance provider, and they'll send us the payment. All you have to do is focus on getting better!
We specialize in work-related diseases and injuries
The therapists and staff at Main Street Health are experienced in workers' compensation and rehabilitation. We've treated a wide range of work-related diseases and injuries, including:
Industrial accidents
Construction accidents
Motor vehicle accidents
Slips and falls or falling-object injuries
Joint pain or muscle aches from overexertion
Carpal tunnel syndrome and repetitive stress injuries
Our therapists will even develop an individualized, goal-oriented work hardening program for a safe, sustainable return to work. This includes job-specific exercises, overall conditioning, and education about your injury and how to prevent injuries in the workplace in the future.
Book your occupational injury assessment to start your personalized therapy program today.
Braces and Mobility Aids
As part of our comprehensive rehabilitation program, Main Street Health offers an array of assistive devices. If you require a mobility aid or brace during or after your recovery, we can help you find just the right one.
Our selection includes:
knee braces
ankle braces
wrist braces
shoulder braces
assistive devices (canes, wheelchairs)
Contact or visit us to review our selection.