Compression Stockings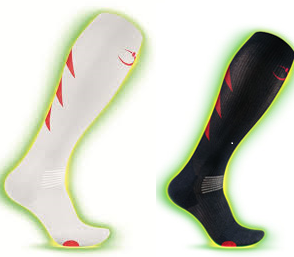 Compression stockings are made of strong elastic material that gently squeezes the feet and legs to promote better blood flow. Increased circulation reduces swelling and fatigue, and lowers the risk of varicose veins and other leg or foot conditions.
Today's compression hose takes a variety of forms:
compression tights
compression leggings
compression pantyhose
compression dress socks
sports compression socks
maternity compression stockings
You will also find an array of colours and patterns in mild, moderate, or firm support.
Do you need compression stockings?
You might want to use support hose if you:
experience tired or aching legs
get swollen feet, ankles, or legs
sit or stand for long periods of time during the day
spend long periods of time in one position during the day
have varicose veins or a family history of venous disorders
participate in high-level athletics or endurance sports like running or cycling
Compression hose are also recommended if you're:
diabetic
pregnant
a smoker
overweight
Benefits of Compression Socks
Main compression socks benefits are pain relief and protection against venous disease. Since venous disease is progressive, it's best to diagnose and treat it early, when symptoms are minor.
Compression stockings help to:
heal ulcers
improve sensation in feet and legs
increase circulation in feet and legs
reduce swelling, fatigue, and discomfort in feet and legs
lower the risk of blood clots, venous disease, and lymphatic conditions
prevent the development of varicose veins, thrombosis, and other problems
Compression stockings are often covered by extended health plans. Drop in to see our selection and ask our friendly staff for more information.