Massage Therapy
Massage therapy can be used to treat a variety of physical conditions, both chronic and acute. It is most often associated with back massage, but this is just one type.
What is massage therapy?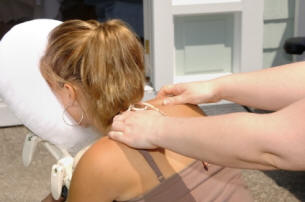 Massage therapy is the evaluation and manipulation of soft tissues. Soft tissues include muscles, tendons, ligaments, and fascia (connective tissues). Manipulation is achieved through a series of specialized hand movements and pressure techniques.
Therapeutic massage stimulates the muscular, nervous, and circulatory systems to improve function and relieve pain.
There are several different massage therapy techniques
Therapeutic massage includes:
Book a consultation to find out which may be right for you.
What is a massage therapist?
Registered massage therapists (RMTs) graduate from accredited educational programs and complete a minimum of 150 hours of clinical practice. They must write and pass examinations to become registered and then maintain that registration through strict quality assurance measures.
Massage therapy is regulated by the province through the College of Massage Therapists of Ontario (CMTO). Anyone using the massage therapist (MT) or registered massage therapist (RMT) title must be a current member in good standing with CMTO.
What conditions can massage therapy treat?
Massage therapy can be used to address numerous health goals.
Common conditions treated by massage therapy include:
whiplash
nerve impingement
tendinitis and tendinosis
muscle tension, spasms
migraines or chronic headaches
Massage therapy may also benefit chronic conditions such as:
multiple sclerosis (MS)
carpal tunnel syndrome or repetitive strain
arthritis, bursitis, and other inflammatory conditions
Even certain non-physical ailments respond favourably to massage, including:
stress
insomnia
anxiety and depression
Massage therapy may also be recommended for pregnancy and labour support, cancer symptom treatment, or post-surgical rehabilitation. Therapeutic massage helps people in a variety of ways, and there are really very few conditions it can't treat.
To find out how massage therapy can help you, consult our RMT.
What are massage therapy benefits?
Therapeutic massage mainly provides pain relief and improved muscle/joint mobility.
Additional benefits include:
reduced stress
improved circulation
boosted immune system
better lymphatic drainage (removal of toxins)
increased relaxation and greater overall well-being
For athletes, regular sports massage therapy can reduce fatigue, alleviate swelling, and improve flexibility. Best of all, it lessens recovery time, helping to prevent injury and enhance performance.
Is massage therapy covered by insurance?
Therapeutic massage is not covered by OHIP but is included in many extended healthcare plans.
Main Street Health offers direct billing for participating insurance plans — ask our staff for information.
Other Common Questions
Does massage therapy hurt?
You control the amount of pressure, so you should always be comfortable.
Do I have to remove my clothing for a therapeutic massage?
Massage is applied to bare skin for best results. A sheet is provided to cover other areas, and you can keep underwear on. If you'd prefer to remain clothed, just tell your massage therapist.
What's the difference between massage therapy and a relaxation massage?
Relaxation massage is provided at a spa by an esthetician. It is designed to make you feel good, not to address your health needs. Therapeutic massage is provided in a clinical setting by an RMT. It is designed to meet particular health goals and may be combined with physiotherapy or chiropractic care.
Do I need a prescription?
You can receive massage therapy without a prescription. However, a prescription may be required by your insurance provider.